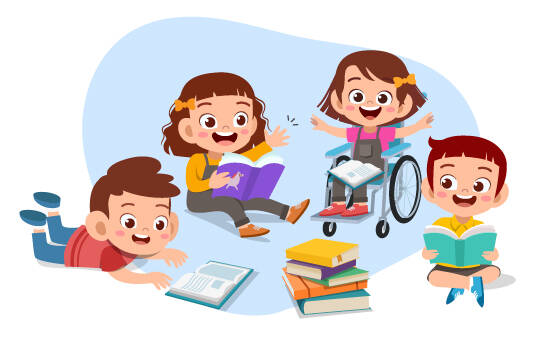 The experience of working with children aged 5-7 on gender equality
In Bulgaria there have been fragmented attempts to work on the topic of gender equality at kindergartens. Thematic classes were held with preschool children, mainly in the context of violence prevention. These attempts were mainly carried out by civil society organizations within time-bound projects. There are no pedagogical programs that are part of the compulsory education of children at kindergartens, and this is an obstacle to the sustainability and lasting presence of this topic in children's education and upbringing at an early age.
The reasons, on the one hand, may be that gender equality seems to present a complex topic and it is difficult to find the practical tools to "translate" it into children's language. Attempts going along these lines have been isolated, based mainly on best practices in other countries and not always appropriate to the local context. This gap is widened by the lack of national standards and policies for introducing the topic of gender equality in early childhood education, which makes it unpopular, and encourages educational institutions to avoid it instead.
On the other hand, children are believed to be too young at kindergartens to be presented with topics on which there is no consensus in society. Gender equality, as well as the lack of it, is definitely a topic that provokes debate, conflict and division in society and touches upon our personal subjective feelings and vulnerability. The fact that at schools and especially in the secondary stage of education, clearly more varied forms of civic education have been introduced, to help children question gender stereotypes for women and men and promote equal opportunities for girls and boys. With older children, these topics are much more often part of their school agenda than they are with children aged 3 - 7.
The contribution of the Fairy Tales Project lies in the development of practical modules for working with children aged 5-7 years to overcome these shortcomings: they follow an innovative methodology for setting complex topics through children's most popular fairy tales. Being aware of the impact that supportive environment of significant adults has on child development, the team involved parents and teachers in the process to ensure that the topic will be permanently present in the upbringing and education of children at kindergartens and in their families.
The main goal of pedagogical interventions under this project was to turn kindergarten communities into a safer place for children by encouraging constructive cooperation among girls and boys.
Methods close to those used at kindergartens were applied, in terms of content structure and activity duration. This allowed for a smooth introduction of the new activity in the context of the already existing pedagogical practices and invited the children into an environment that feels familiar and close to them. At the same time, to mark the situational activities on the topic of gender equality as different, the project team introduced special symbols ("passports" for participants, stickers for each module, a verse, marking the for the beginning and end of activities). They served to differentiate modular training sessions as a coherent flow of activities in a certain sequence.
And opened opportunities encouraging children to freely express themselves without fear of punishment. This was particularly important for opening up discussions among children on topics, where there are no right or wrong views. Children's participation was encouraged with the clear understanding that children should be respected and supported in their interests and desires and encouraged to develop their potential.
Kindergartens' pedagogical practices in Bulgaria, have turned classic children's tales are into a well-known and widely used tool for working with children. They are present as part of the methodological framework of different age groups, including preschool age (5-7 years). Fairy tales are used to develop children's ability to learn new content, to categorize, to recreate a plot, to make a summary, to develop and enrich their speech. In this aspect, the project is based on the established practices of presenting classic children's tales. The building block was the use of plots to set new themes - gender roles of women and men, characteristics of fairy tale characters of both sexes, stereotypical and non-stereotypical images, violence and abuse, etc.
The introduction of a new fairy reality in the activities allowed to maintain a healthy distance from the personal experiences of children. Such complex and conflicting topics could be discussed without contradicting and clashing with the values that children are brought up with in their families and immediate environments. No tension or opposition built up, because moderators worked using the fairy-tale reality and characters, not children's personal experiences. Classic children's tales are a universal tool for introducing complex topics to young children. There is nothing more natural than their plots to present different life situations, including conflicts, abuse, violence in a child-friendly way.
The project efforts made use of the established practices in presenting 'softer version' of classic fairy tales. The adapted texts lack much of the 'scary' elements that have disappeared after a series of edits of the original stories. The practice in Bulgaria has been to present stories that do not feed strong negative emotions and especially fear. This is in line with established public attitudes censoring 'bad' story features, aligning with children's fears, anxiety and feeding internal conflicts. To avoid feud battles over established methods of work at kindergartens, the project used the edited texts of fairy tales. It is the position of the project's expert team that changes in these routine practices will assist the efforts to prepare children respond adequately to risky situations. Practice shows that violence and abuse of children occurs even in infancy and, prevention programs should start early, finding an appropriate way to introduce the topic at kindergartens. When children are kept away from complex and conflicting topics, such as violence and abuse, it does not prevent them from becoming victims, but on the contrary, increases the risk because they remain uninformed and unprepared for possible dangers.