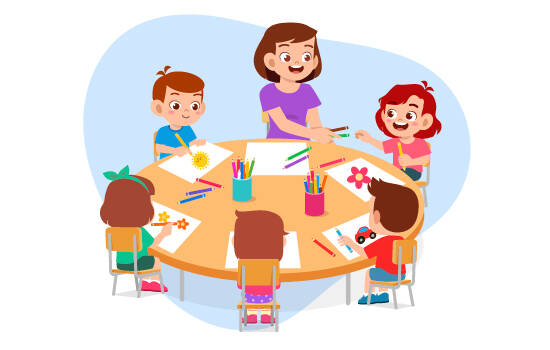 The practical activities confirmed how spontaneous and authentic children are at this age. Prejudices and gender stereotypes are still foreign to them, and this opens up opportunities to question them. However, despite their fragile age, the roots of gender stereotyping are already traceable: the distribution of housework and free time, the choice of toys, certain color preferences, assigning different tasks and enforcing different rules for girls and boys. On the other hand, on the issues of pay for women and men and their participation in the decision-making process, children set an example of equal treatment and demonstrated their unbiased attitudes.
Children's teachers and parents, being their most significant adult figures who shape children's values, should encourage the building of meaningful relationships between girls and boys, with and mutual respect and esteem among them. When in a supportive environment, sensitive to gender inequalities and critical towards stereotypical family and social roles, children feel encouraged to express their interests and realize their potential without being restricted to following socially acceptable models for girls and boys.
When ready-made solutions are offered to children, they narrow down their abilities for critical thinking and make them follow behaviours they have seen in adults. The education system still needs to further develop in order to encourage children to express their opinions freely, particularly when they run against prevailing attitudes. We have learned that every child has their own idea on gender equality, but sometimes there are invisible barriers, preventing them from voicing it, like the fear of ridicule and rejection.
Raising children by giving them positive role models to follow proved to be an efficient and sustainable strategy over time. Due to the specifics of their age and their limited ability to influence the decisions and behavior of adults, children do not have the resources to deal with problematic situations, injustices and inequalities. When topics are presented to them through their deficits, it is very difficult to expect a positive change, because it is not in the children's ability to compensate for these shortcomings and this will only strengthen their sense of helplessness and failure. Conversely, when children are given positive examples, they could be an inspiring message to them that change is possible and problems can be solved.
Fairy tales continue to excite children, even in the age of new digital technologies. They bring lasting value and help children understand the true diversity of the world around them in an interesting and gentle way. Fairy tales provide an unlimited opportunity to raise complex and conflicting topics that accompany the growth of children. The variety of plots and images can serve as a tool to challenge gender stereotypes. In addition to pedagogical practice, fairy tales and characters are also suitable for therapeutic activities with children.
Once upon a time...these words keep casting their spell on children today. Depriving children of of the good, old tales, comes straight from the Book is one of the ways we have as adults to harm them.